On laptop screens click the main image to start slideshow
click on small image to see a larger version above
click on small image to see a larger version above
click on small image to see a larger version above
click on small image to see a larger version above
click on small image to see a larger version above
click on small image to see a larger version above
click on small image to see a larger version above
click on small image to see a larger version above
click on small image to see a larger version above
click on small image to see a larger version above
click on small image to see a larger version above
SPARKLE - sequin cocktail hat
Regular price
$284.00
$0.00
Unit price
per
Sparkle is a cocktail hat that adds a little bit of glamour to any outfit. The charcoal sequins have a cold silvery gleam to them, which is very flattering against the skin. Who doesn't feel like a rebel when they are wearing sparkly sequins?!
I love the defined shape and high drama of this design. As it is such a simple silhouette, it is very easy to wear with so many colours and outfit styles. Perfect for a New Year's Eve party or birthday celebration.
This hat is handmade in London by me, Claire. No, I did not stitch on every sequin, instead I bought sequin embellished fabric from one of the fabulous cloth shops in the city. I hand shaped 2 layers of millinery buckram to create a sturdy base, and then draped and manipulated the fabric to create a seamless finish. 
This eye catching design was inspired by my love of glitz, pizzazz and all things shiny.
MATERIALS 
★ double layered buckram base ★ droplet shaped charcoal sequin fabric ★ swiss dot 100% cotton lining ★ internal wire edging ★ size adjustable dark brown elastic ★ clear plastic comb ★  black millinery petersham (70% rayon, 30% viscose) ★ 
HEAD SIZE AND HOW TO WEAR
This piece comes in one size that fits all head sizes.
The cocktail hat fits snugly on your head, but not around the circumference of your head (like a baseball cap would). This means it can fit all head sizes.
I have fitted the hat with a dark brown elastic. This elastic is designed to go around the back of your head, and sit behind your ears and at the nape of your neck. The elastic is adjustable, if you need it to be tighter then pull it further through the thread loop and tie another knot further down the elastic.
There is also a comb which is there to slide in from the back towards the front of your hair.
I have designed this hat to be worn on the right hand side of your head. Position the base forward over your hairline, it should sit a little above your eyebrow. I think it looks best worn towards the front of your head, but other people prefer it more on the back! Play around and experiment to see where you like it best.
DIMENSIONS
The Sparkle oval base measures approximately 18.5 cm (side to side) x 20.5 cm (front to back) when holding a tape measure straight across the inside of the base. It weighs about 80 grams.
SHIPPING
Currently I sell and ship to the UK only. This piece has free UK shipping! 
Your hat will be sent via Royal Mail Special Delivery, and you should receive your product within 1 - 3 days of placing your order. 
You will need to sign for your delivery, unless Royal Mail have changed this due to their Covid guidelines. You will receive an email from me with your tracking number as soon as I have taken it to the post office.
For more in depth information on my shipping policy click 'Delivery Info' at the bottom of every website page.
Your hat will be delivered in a sturdy white box which measures 35 cm x 24 cm x 17 cm (a bit bigger than a standard size shoe box). It is also a great box for storing your hat!  And please hang onto your packaging, as all returns need to be sent back in their original packaging.
CARE
Please try and stay out of the rain in this hat. It can cope with a light sprinkle but not a downpour. If you use an umbrella then that will be fine.
If your hat does get wet, then let it dry naturally at room temperature. Don't use a hairdryer or put it next to a radiator as the heat may warp the buckram base. Gently support the base on something like a rolled up jumper and leave it to dry without touching it. Generally this should take about 6 - 12 hours. If you have any problems then please do get in touch through the website contact page.
Your hat should need very minimal cleaning.  If it does then hold the base firmly and give the hat a good shake. After this very gently brush the sequins, using a soft cloth.
PLEASE NOTE
Although my creations are accurately represented in these photos, colours may vary due to the differences in screen displays. Also, due to the handmade nature of this product  small differences will occur.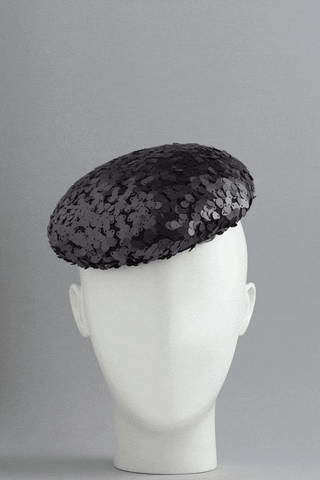 ---